Exercise Prescription for Falls Prevention
Product Description
This course provides participants with an in-depth understanding of the principles behind successful and safe exercise prescription for the prevention of falls. This course is conducted online with active course facilitation throughout the four week period. This means that participants will be able to access course materials and complete course learning activities at their convenience throughout the course. Course materials include a mixture of video, written and power-point learning materials, extended learning materials for advanced participants, and online assessment tasks. The course is designed for health care providers interested in the field of falls prevention.
The course requires two hours time-commitment per week, completed at a time convenient to the participant. The 'self test' at the conclusion of the course will take approximately one hour, and will need to be done within two weeks of completing the course material.
Course Objectives
At the completion of the course, participants will be able to:
Discuss anatomical and biomechanical principles underpinning the prescription of falls prevention exercises.
Perform key assessments of balance and gait and determine how assessment findings relate to falls risk and the types of exercises that need to be prescribed.
Prescribe and progress a range of falls prevention exercises.
Explain the principles of motivational interviewing and its application for promotion of adherence to exercise programs for the prevention of falls.
Course Pathway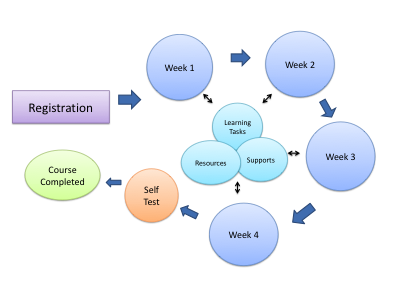 Course Convenor & Facilitators
Associate Professor Terry Haines is the course convenor and has lead the development of the course materials. Terry is an internationally renowned expert in the prevention of falls with over 80 peer reviewed publications in the area of falls prevention. Terry is currently the Director of the Allied Health Research Unit, Monash Health, a joint appointment with Monash University, Melbourne, Australia.
Ms Dina Pogrebnoy is a senior physiotherapist holding clinical, research and teaching appointments across Monash Health and Monash University.
Ms Romi Haas is a senior physiotherapist with clinical and research experience in falls prevention.
Technology Requirements
It is assumed you will have sufficient computer literacy to be able to:
Send email.
Receive email and open attachments including PDF, word, video files.
Type at approximately 20 words per minute.
Details:
Date:                          Monday April 9, 2018 until Sunday May 6, 2018.
Format:                      Active facilitation provided throughout the course by experts in the field of clinical and research-related falls prevention.
Cost:                          $385 AUD
Queries:                     Directed to Dina Pogrebnoy at dina.pogrebnoy@monash.edu
Enrolments close:     Wednesday March 28, 2018.
To Register
Register here for this course.
Last modified: Friday, 30 November 2018, 4:35 PM